Why we built Publii, the first true Static Website CMS

Bob Mitro
In recent years the technical aspects of creating a website have become increasingly complex and challenging; much more so than it was before. Responsiveness, load times and semantics have become key elements in the struggle for relevance in search engines; failing in any of these key areas can have a negative impact in a website's search engine position and lowers the chances of a user discovering a site by chance.
Design is not the only area that has enjoyed a revolution in recent years; unfortunately, the increasing influence the internet has on our daily lives has naturally lead to an increase in the number of hacker attacks, who may look to steal information, disrupt website operations, or simple cause trouble for the fun of it.
Being in the thick of the web-development world, we saw the changes happening in real-time; more and more demand arose for services for optimizing website speed, layouts and functionalities to better attract users and grow search rankings, and as people began to rely more in the internet for promoting their business, so too came a need for protection from hackers, as well as backup and recovery services should the worse happen and a site is compromised.
Looking back over this period of growth and change, we came to realize that many people, both businesses and individuals, were using tools that ultimately were either inadequate or far too expansive in scope for their needs - CMSs such as WordPress, Drupal or Joomla! - leading to higher costs of maintenance and management, as well as higher risks from potential hacker attacks. This is acceptable when its a larger website, but the majority of websites on the internet are much, much simpler; just a small personal blog, or a business profile with a few subpages highlighting key services and contact details; for them, it's just not feasible to cover the costs involved in maintaining and protecting their site.
The Forgotten Potential of Static Websites
Recognizing that issues exist is only the first step in a long journey; actually finding a solution is the hard part. But as it turns out, the solution had already been created. In fact, it had been created even before CMSs like Joomla and WordPress had been invented! The answer is static websites, which are not generated by software on a server. Let's break it down. with something like WordPress, the CMS is acting as the intermediary between the server and the user; when you visit a WP site, the browser requests the page, WordPress pulls the information, such as text, images and whatnot from its database, then uses predefined layouts from themes, plugins etc...to generate workable webpage from all that information that is then sent to the browser.
In a static website, either the page is manually created, or generated using static-page-generation-tools. Either way, since the actual generation is done in advance, when your browser sends a request to the website's server, the only thing the server needs to do is send the pre-generated files to the browser, rather than running through the entire fetch-generate-send process.
This approach offers some pretty major benefits that directly answer the issues discussed earlier. For one, a static website hugely increases website security; many hacking attempts take advantage of exploits that allow them to 'inject' their own code into the CMS' or website's code, but in order to do this there needs to be actual code being run. In a static website everything is, as the name implies, static; no code is being run, only the generated website files are sent to the browser, making the site nigh-impossible to hack without gaining direct access to the server.
Secondly, since a static website doesn't demand any additional operations to be run by a server, such as compressing PHP code or connecting to a database, to generate the final content it allows for significant improvement in load speed and optimization. Compare the speed of a fully-optimized dynamic website: .../smashingmagazine.com with its faster static counterpart: .../smashing-static.netlify.com
A Tool for Everyone
So if static websites are faster and safer than CMS-based websites, and more than functional enough for most websites, why aren't more people using them? The problem here is that actually building a static website from scratch can require a lot of web-development experience, or knowledge of complex tools that aren't immediately accessible to the layman. So we took the advantages offered by static websites, combined them with our years of experience in the web-development space and, for that finishing touch, added in our extensive understanding of website optimization, SEO and UI and responsive web design, and crafted a bespoke solution that absolutely anyone could use.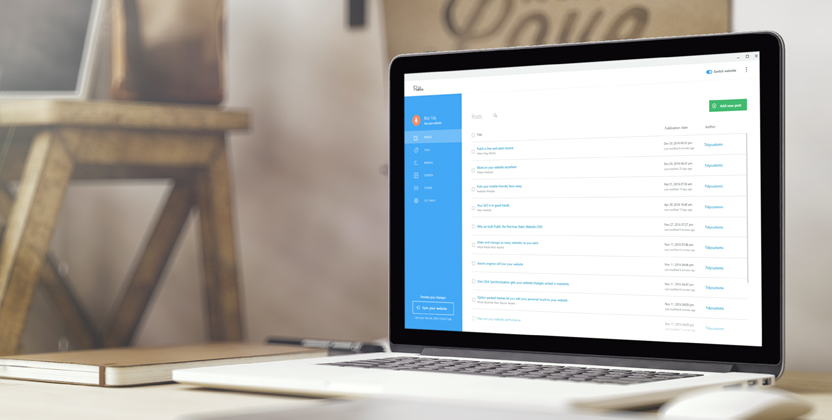 We created Publii - a desktop application that may well be the first (but definitely the most user-friendly) static-website CMS. Our design goals in creating this app was to greatly simplify the static website creation process, providing simple, understandable options to allow even people with little or no technical know-how to still be able to build and manage their very own modern, stylish static websites. With built-in support for responsive images, compression of the final generated website files, AMP, Open Graph, Twitter Cards and many other useful and flexible features, Publii will let you make your very own static websites that meet all the latest web-design standards while taking advantage of the latest web technologies.
A independent approach to web development
There's lots we can say about Publii's features, but there's one very important aspect that shouldn't go unnoticed; Publii is a desktop application, NOT server software. Your website and data don't depend on any third-party services, you have full control over where your website files will go, and only you, as the owner of the computer with Publii installed, will have access to add, edit or delete your drafts, articles and other content. Plus, since it's a desktop application, you don't even need to be connected to the internet to create or modify your websites; everything can be done locally on your computer and synced with your server whenever you're back online.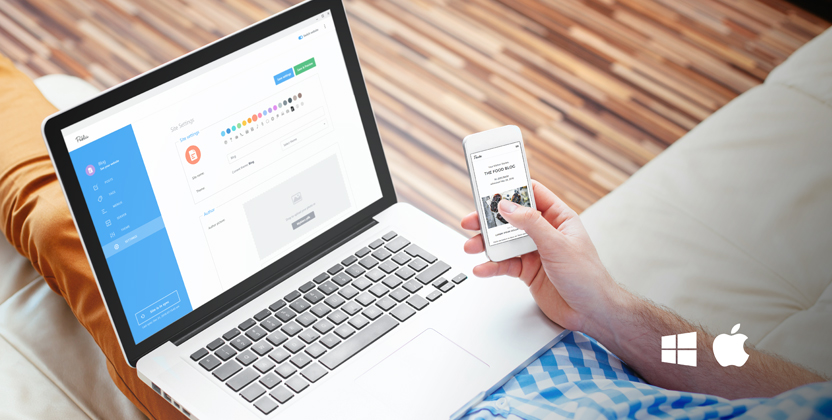 Huge possibilities wrapped in a simple interface
Despite the simplicity of using the application, Publii is built to be expanded for those that need to do more. A sophisticated theme-creation engine empowers web developers to forget the limitations of the past and start using blue-sky thinking to lead their projects. Even if you're not experienced with development, thanks to preinstalled themes created to meet the latest standards that come with the Publii package, you can get started with your very own blog, company website or personal profile with no effort at all.
If you've always wanted to make your own site but haven't felt confident enough to jump in, or if you're looking for a solution to your website maintenance and optimization challenges, then Publii is the app for you.
Publii is free and open-source
The open-source community has always been a big part of our professional and personal lives, so naturally when we first started building Publii we knew that it would be an open-source project, and that the feedback and input from its users would be the biggest influence on its future development path.
At the moment Publii is in its alpha phase, and we're still adding new features and refining existing ones to provide the best user-experience possible. Here's your chance to have a real, tangible influence on Publii's development by joining our group of alpha testers . Your feedback is incredibly valuable to us, especially in Publii's current stage of development which will have a huge impact on Publii's future, so we invite you to join up and give Publii a try. Don't worry if you've got no experience with web-development or CMSs; we've built this app to give everyone a chance to make their dream website, so your feedback is just as important to us.