Publii Beta 1: What's New and Improved?
The alpha release of Publii has been out in the wild for a few months now, and we're extremely pleased with its performance and the feedback we've received from all of you who have contributed feedback and suggestions on features and improvements you'd like to see, as well as keeping us up-to-date with any bugs that need fixing!
Since the initial Publii release our team have been beavering away at the beta release, taking on-board all of your feedback to make it something special; today, after several months of work, we're proud to make the first beta of Publii available for download. If you just want to jump in and play around with this new release, then head over to our homepage where you can get the install package for Windows or Mac.
If, however, you're more interested in finding out what's new in this release before trying it out, then worry no more; in this post we'll cover all the major changes from the over 100 implemented features, improvements and bugfixes the Publii beta release includes. To start, we'll look at the biggest new features you'll be able to take advantage of in the beta:
A New Analytical Panel for Writers
Get the most from your posts' performance with a new analytics panel that provides detailed real-time information on post content in the sidebar when writing articles, including counters providing breakdowns on the number of characters, words, sentences and paragraphs, as well as estimated reading time so you can aim for the sweet spot with your content. There's even a counter for the number of unique words, so you can make your posts more original and improve SEO performance.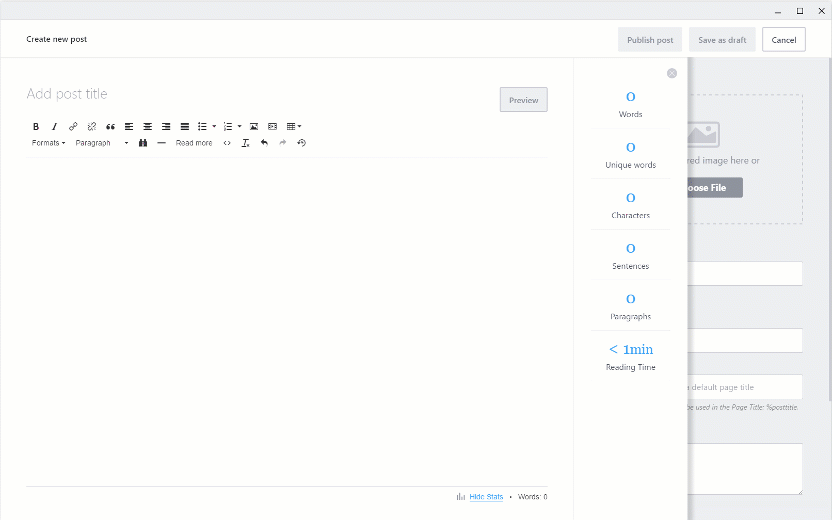 Mercury - A Brand-New Theme
Give your site a completely new look with the latest Mercury theme and the bundle of style options it brings. If you've a taste for the eclectic, then go for a masonry-style post preview layout, with varying preview sizes. Alternatively, if you'd prefer something more uniform, then you can opt for a standard layout with set preview image sizes. The preview cards themselves also have a couple of layouts to choose from; expanded preview cards with title and publication date, or compact previews with on-hover title overlays for that visual oomph. As you'd expect, there's a bunch of controls for modifying the card size, number of columns and page filters, and it even includes lazy-load support so photos are only loaded when necessary; this makes for even faster load times, better user experiences, and will also do your SEO performance a favour too!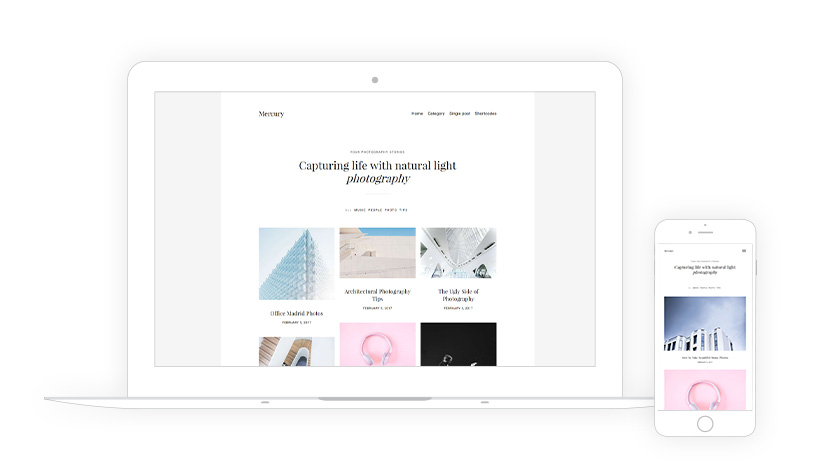 Post Autosaves
We've all been there; that one time we don't save a document we're editing, and there's a power cut, or someone unplugs your computer to plug in that awesome new leg lamp they just have to try right now. Whatever the reason, your hard work disappears into oblivion, never to return. Only now it does return, as when writing a new post, Publii will automatically save the content in the background every 10 seconds. Then, if you accidentally close the app or get hit by a power cut, or even just cancel the post and change your mind five minutes later, you'll have a copy of the draft held by the app for 30 minutes ready to be restored at the touch of a button.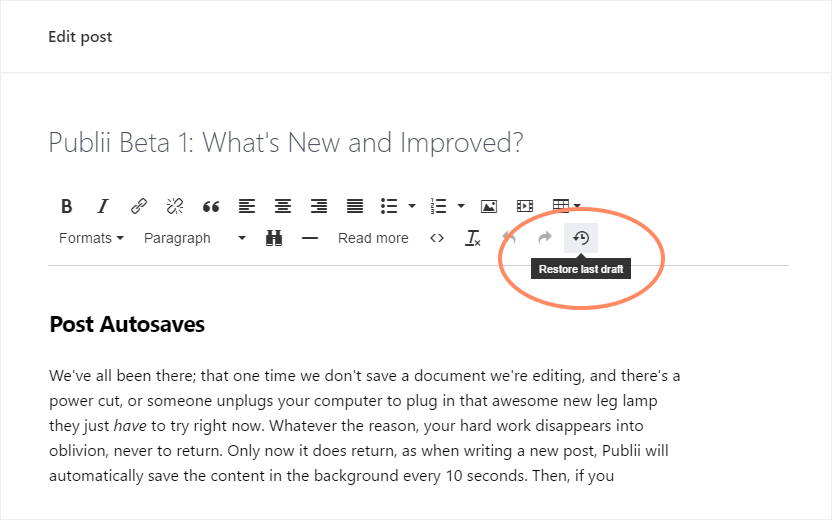 Enhanced SEO Options
Perhaps unfortunately, it's not just the quality of your content that decides whether your blog will be successful; it's also down to your search engine performance. If none of your website's pages appear on the first few pages of search rankings, then finding new readers can be a challenge. The Publii beta expands the existing SEO functionalities; perfect if maximizing your search engine performance is one of your top goals. The new features allow you to use the SEO variables separately on each page type, including the front page, posts, author page and tags, as well as individual post pages, providing more detailed content for search engines to use when matching your content with a search term. If you've got some filler content or informational pages that aren't SEO-performance-oriented, then you can now also Noindex a whole page so search engines ignore it.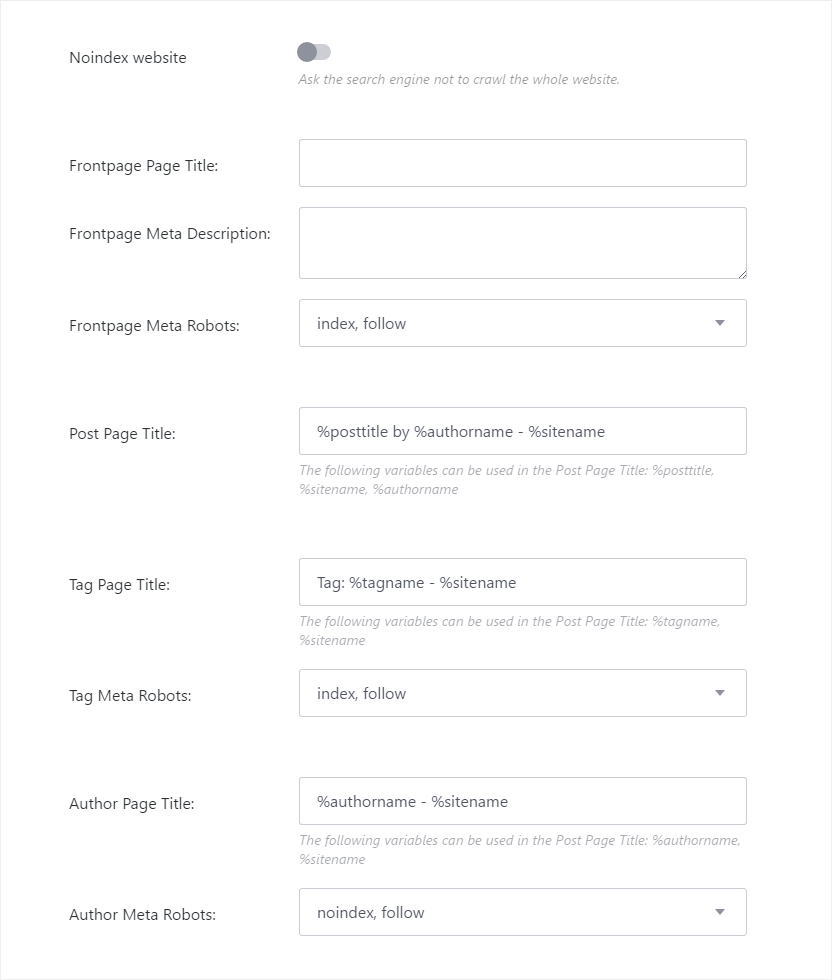 Image Position Support
Content is king in a blog, so having even more options for controlling the look and feel of a page is never a bad thing. The beta Publii release expands the available image options; now, as well as the image simply matching the width of the text column, you can also set it to match the width of the page, or use a newspaper-style indent to the left or right, with post content opposite. It can make your content more visually-appealing, and enable the use of smaller pictures to complement your text.
Post Ordering
Most of the time you'll want to have your posts ordered "Newest to Oldest"; after all, returning visitors will want to see what's new. But sometimes ordering needs some fine-tuning, and more robust options are required. Publii now includes multiple ways to order your posts, including alphabetically, by creation date, ascending, descending and more. The settings are separated between featured and standard posts, so if you want to display your featured articles in a different style, you can!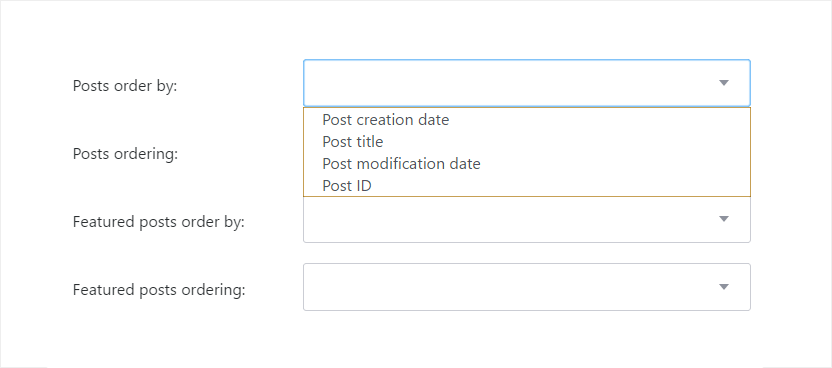 Even More Features
As well as the bigger changes mentioned above, there's many minor modifications and improvements that improve the user experience and add more flexibility to Publii management and customization, including:
SFTP and FTPS support - Make your data upload even more secure with the improved security of the SFTP and FTPS protocols.
Post Listing Filters - As your site grows you might find that your number of drafts, hidden and published articles becomes becomes overwhelming to keep track of; with post filtering, you can separate articles in the Publii app instantly to find published, drafted, hidden or trashed articles and make management easier.
SVG/GIF Image Support - Get even more flexibility when inserting an image into your post, as Publii now supports SVG and GIF formats.
New Trash Area - Sometimes we all delete things we didn't mean to, and previously that meant your post was gone forever. Now, deleted posts will be moved to a separate Trash category, so you'll be able to restore the post if you change your mind later, or delete it forever once you're ready.
AMP Switcher in Preview - Want to see how your site will look as an Accelerated Mobile Page (AMP)? Now you can, thanks to a switcher added in the live preview of Publii that will switch between the standard and AMP version view.
Updated Color Picker - When selecting colors for customizing your theme you'll now be able to see the currently applied color for each option in their respective fields, so there's no need to be familiar with HEX values. In addition, we've added support for full RGBA values, so you can define how transparent your chosen color is with the alpha value. There's a slider for this too, if you'd rather keep things simple!
Custom Code in Head/Footer - With this addition you'll be able to add your own code into the head and footer of a theme, for even more customization options for advanced users.
Notifications Added for Updates - It's always a good idea to keep your software up-to-date to enjoy the latest features and enhanced stability, so we've added a notifications area at the top of the app that will let you know whenever an updated version of Publii is ready for download.
And Fixes Too!
It's not all about the new features; what's going on under the hood can be just as important. The beta version of Publii includes a ton of fixes and optimizations to make it even more efficient and effective at meeting your needs, including:
The sync process has been optimized to make it faster than ever before.
Enhanced AMP options.
Multiple optimizations in themes' code.
Multiple enhancements to the renderer.
Improved UX/UI in the application for more intuitive usage.
Added utilization of more background threads for complex tasks.
Improved Menu Manager
Summary
Publii may not be quite ready for a full release, but this beta release is a massive step forward, with an almost overwhelming number of additions that will surely make Publii even more user-friendly. We would like to thank all our users for their support and feedback during the alpha, and we ask that you continue to test and provide feedback regarding your experiences with the beta, any bugs you encounter, enhancements you'd like to see, features that rank high on your list; if you've got an opinion or hope for Publii, we want to hear it!