Huge Privacy-Focused Update; Publii 0.40 now available
The latest Publii update, version 0.40, is now available for download, bringing a big focus on privacy. In this release, you'll find improvements to the cookie banner including improved consent handling, plugin integration, and multiple modes allowing visitors to provide specific consent options.
Other privacy-focused improvements include new options for managing user consent in embedded content, 'no tracking' settings for YouTube and Vimeo embeds. Throw in a big themes update and the usual bunch of improvements and fixes that you've come to expect from a Publii release, and we've got a lot to get through.
Before we get into the details about this update, you can jump straight in and start trying out the new features by heading to the Publii Download Page and downloading the latest install package; don't worry about uninstalling previous versions as it will be automatically overwritten when running the package.
With that out of the way, let's see what's new:
Enhanced Cookie Banner
Since the introduction of the GDPR in Europe, protecting visitor data and privacy has become a big focus for websites. Previous versions have included a cookie banner to allow users to give consent to third-party scripts, but in Publii version 0.40, we've made some massive improvements.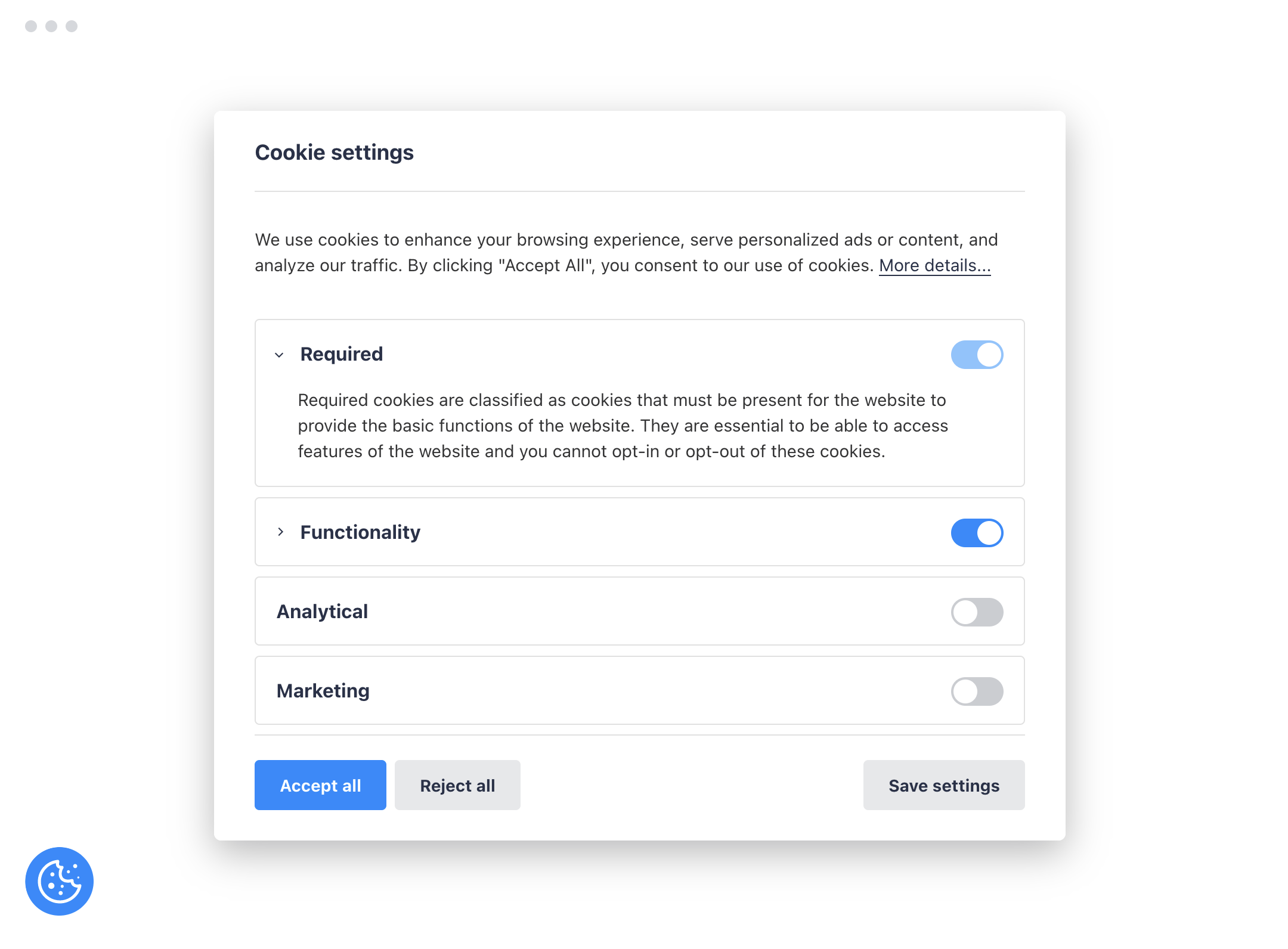 The cookie banner can now operate in two modes; a basic informational banner for required cookies that don't require consent, and an advanced mode that includes a popup where visitors can give consent to specific cookie groups. It's quick, easy, and it includes a light and dark mode so you don't have to worry about an ugly banner spoiling a well-crafted front page! In general, you'll find even more options to manage the banner's look, such as a Bar option to display the basic banner as a bar at the bottom of the screen.
It's not just the look and feel that's had a boost; now it's even easier to make your site GDPR-friendly. While scripts can still be added manually to cookie groups, all official Publii plugins include options to do so without needing to jump into the code; just a couple of clicks, and the plugin's cookies are added to the cookie banner. This is why Publii's search options, including Google Custom Search, DocSearch or Publii's own Static Search, have been separated into their own plugins; it allows their scripts to be quickly integrated into the cookie banner; but they'll be more on that later.
One final thing to note; as the scope of the cookie banner and the related settings has expanded, the GDPR tab in the site settings has been renamed to Privacy Settings, highlighting the new focus to this section's options. Overall, the process of managing cookie consent has been simplified, and they'll be much less need to add anything to the theme code, unless you are adding more third-party scripts to your site, outside of the plugins that Publii offers.
See it in action here.
User Consent and No Tracking Options for Embedded Content
Once upon a time purely text and image blogs and sites were a common sight, but in the modern era video content is a key part of any site's output. To improve privacy, this release implements the ability to include consent for embedded content that is displayed in iframes on a post. In such cases, when a visitor doesn't provide consent to the required cookies, the embedded content will be blocked with a placeholder text, which advises them to change their cookie settings.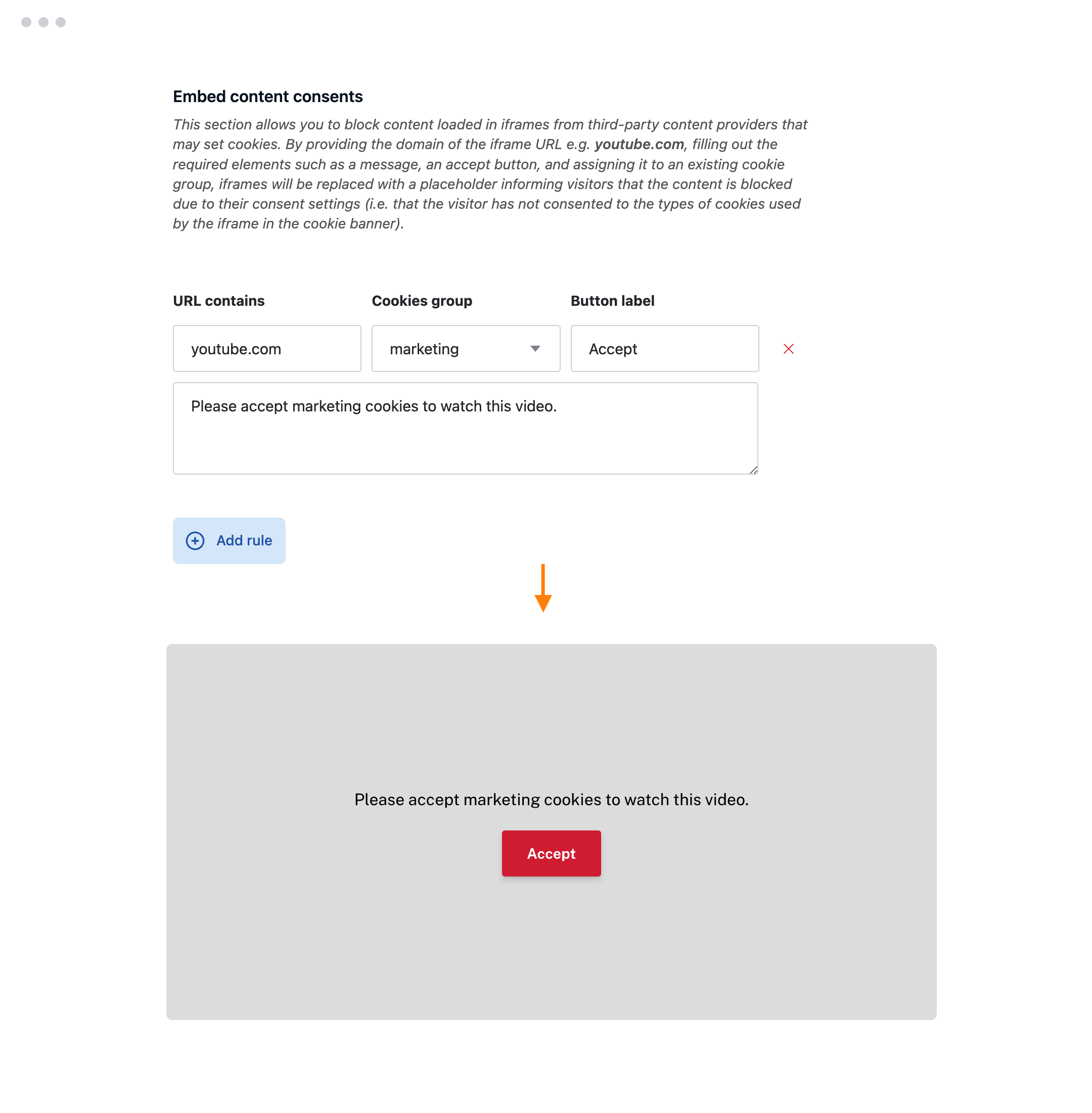 See it in action here.
In addition to this, options have been added to the Privacy Settings in Publii to enable 'Do Not Track' mode for embedded content from Vimeo, and 'Privacy Enhanced' mode for embedded YouTube content. These options work in slightly different ways, but both are useful if protecting your visitors' privacy is a priority.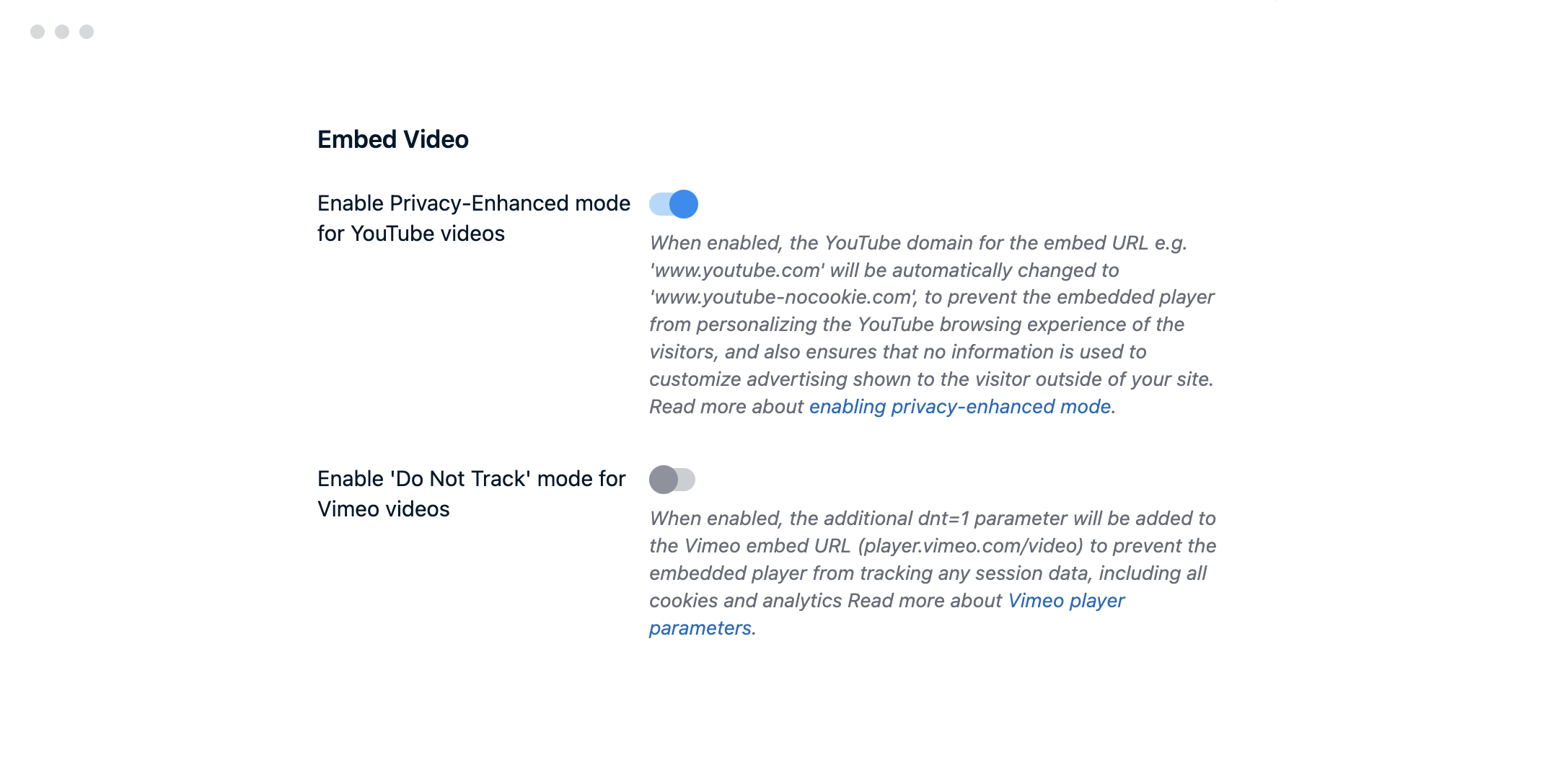 When 'Do Not Track' mode is enabled in the Publii settings, embedded Vimeo videos will not collect any data from the user; that means no tracking cookies or any session data is recorded. For YouTube, 'Privacy Enhanced' mode prevents YouTube from personalizing the visitor's video experience; this means that any videos watched on your site will not contribute to their recommended videos, or be used to customize the advertising that they see when browsing YouTube.
With these additions, Publii can be an even better option for your site when privacy is a concern.
Separated Search Plugins
Earlier versions of Publii included support for two search solutions; Google Custom Search and DocSearch. These searches provide a useful tool for your site, but they also have their own requirements with regards to cookies and consent. This is why, from version 0.40, these features have been separated out from the Publii core and reintroduced as optional plugins available through the Plugin Marketplace.

By introducing these plugins, we have freed up some weight from the Publii core, and have also been able to, as with Publii's other plugins, integrate the searches seamlessly into the Publii Cookie Banner, allowing users to easily consent to the cookies necessary to perform the search. All other functions of the searches will continue to work as normal, but the options have been moved to the plugin settings screen.
Our users will be able to use any of the search plugins with any of our themes, but themes that were previously built to support DocSearch now also include a DocSearch support option in the Search tab of the theme settings; enabling this will restyle the search to fit perfectly with the theme style.
Static Search Plugin Adds Fast, Private Searches
With the separation of the built-in search options into plugins, and the enhanced privacy in this Publii release, it was important to offer our users an alternative search option that doesn't require third-party scripts or cookies to provide its function. For this purpose, we have the Static Search premium plugin.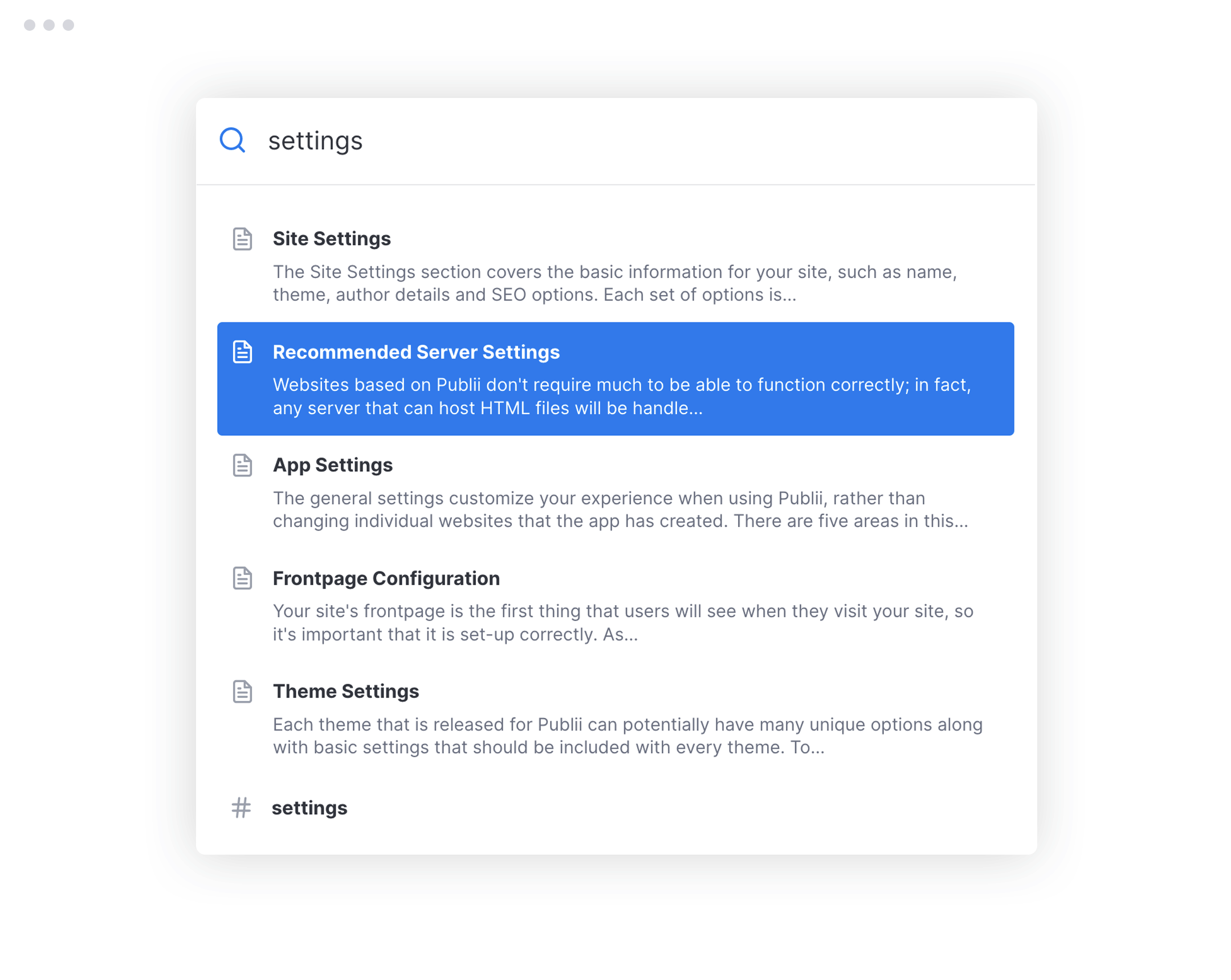 Built using FlexSearch as a base, the Static Search plugin has a massive number of options to customize your site's searches to find an efficient balance between memory usage, accuracy and speed. When implemented, users can expect ultra-fast dynamic searches that provide extremely accurate results, with additional settings to provide results even when there are word mispellings, and suggestions for popular searches.
Thanks to this search plugin being locally-implemented, there's no need for third-party scripts or consents, and your visitors won't need to worry about their searches being tracked and used for advertising or other marketing purposes. The Static Search plugin is easy to download and install via the Publii Plugin Marketplace, so it won't take long to get searching up-and-running on your site.
Visit the Static Search plugin page.
Compact Application UI Options
When using Publii, a large amount of time will be spent looking at the list of posts. Though the basic layout worked fine, some users may find it difficult to keep track of specific posts, especially when there's a lot of them!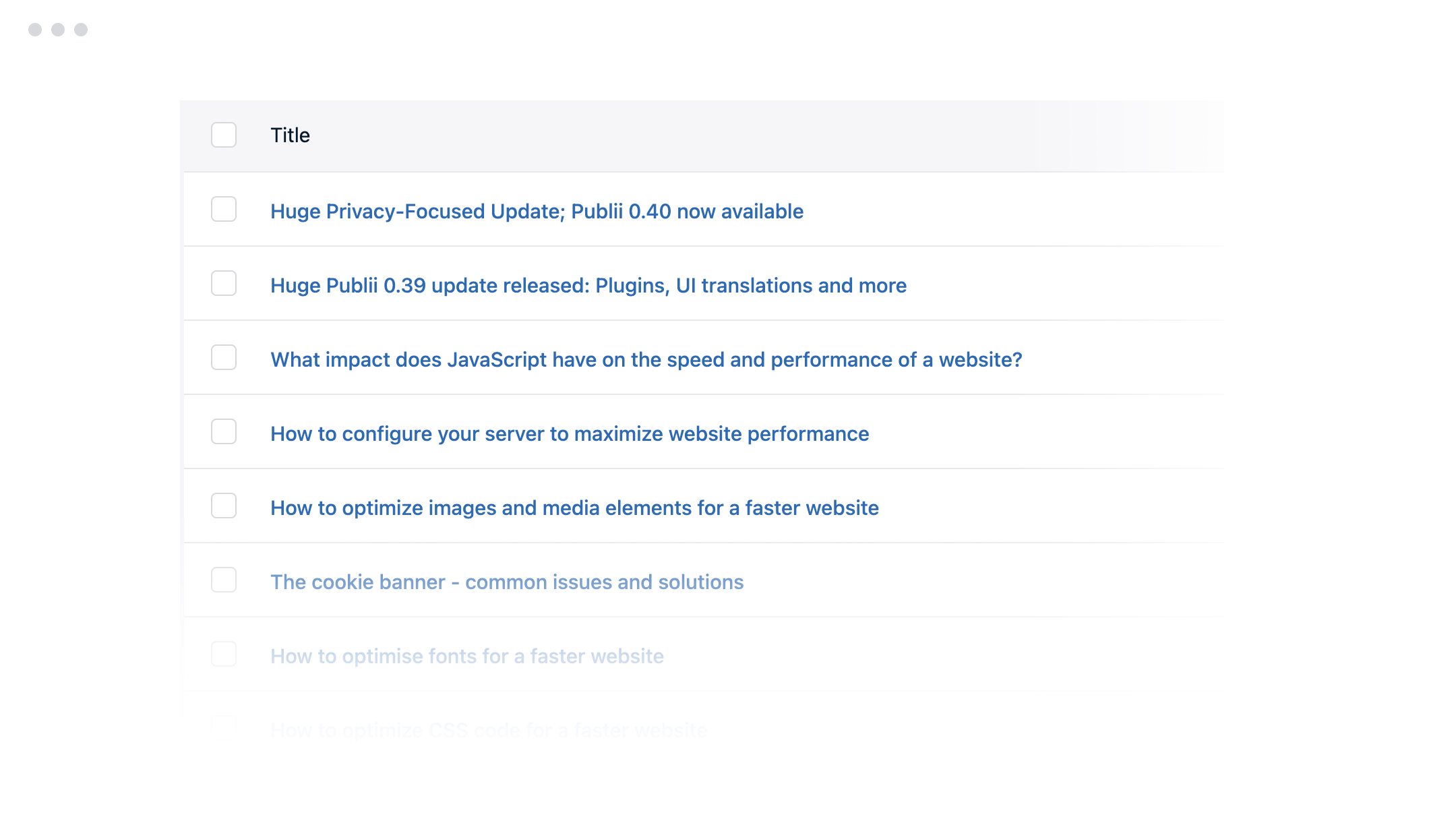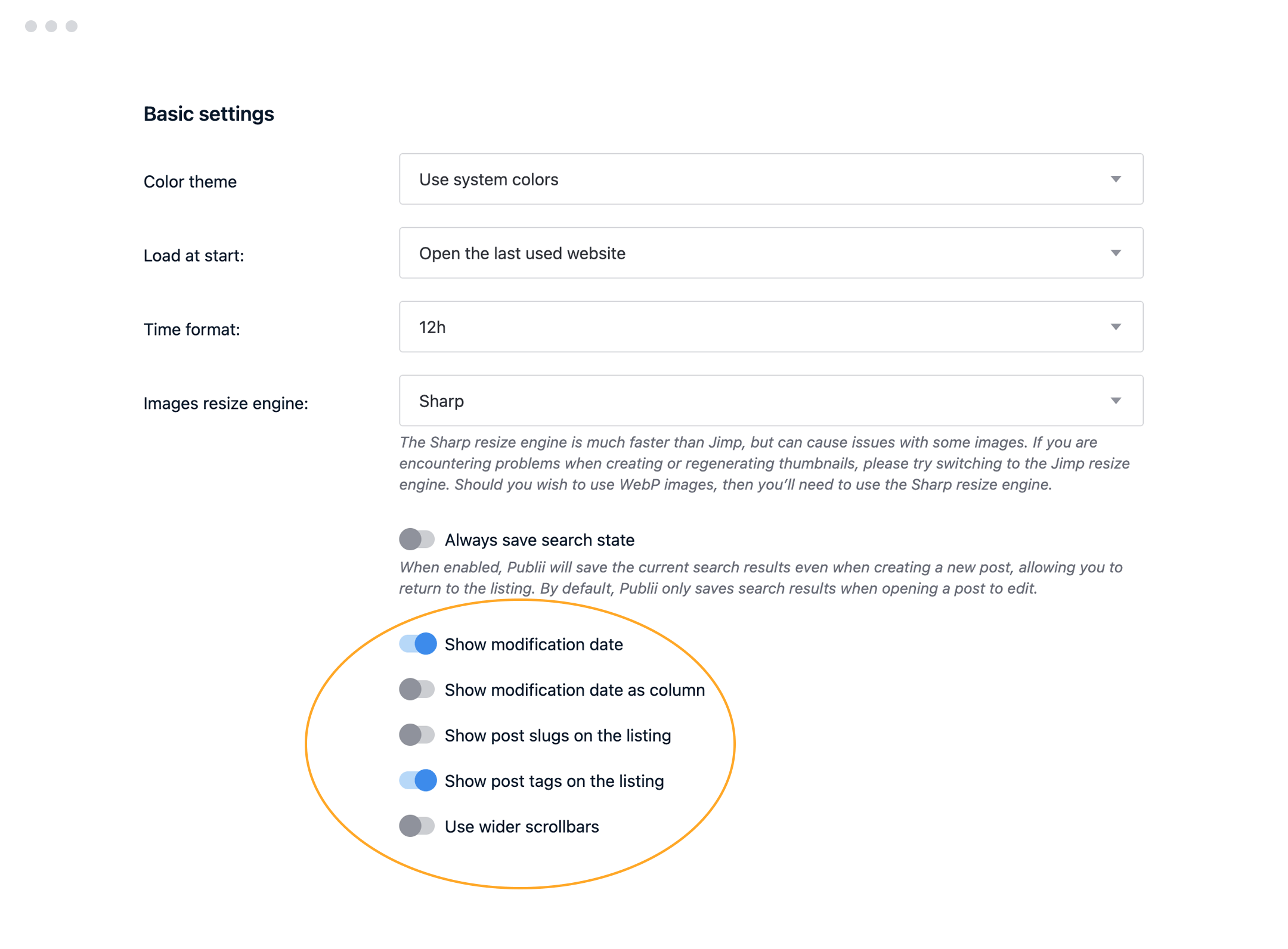 With these additional application settings, found in the Basic Settings section of the app settings, users will be able to specify exactly what elements should appear in the post list; the modification date, post slug, and post tags can all be removed from the listings, making it easier to browse a large number of posts.
Themes Updated with Better Support for Embeds and Searches
Almost all Publii themes have received a large update providing multiple improvements to how each theme handles embedded content. First off, themes now have improved responsiveness for embedded content; the code handling responsive elements of the theme now detects the height/weight of the embedded content and calculates the appropriate aspect-ratio that best fits the viewport. With this change, embeds including video, iframes etc...will be responsive and displayed more effectively.

With the other changes to embedded content, each theme has had support for Embedded Content Consent added. As note earlier, this allows embedded content to be blocked from view if the visitor has not consented to the required cookies; instead, a placeholder text will be displayed to advise visitors that they need to consent to the appropriate cookies before they can view the embed.
Each theme now supports the search plugins provided by Publii on the marketplace; now it's easy to add searches to your site without making any code changes. Something important to note here is that users who are using a custom theme, or an older version of a theme that they don't want to update, will need to add the code snippet used for search plugin support manually; more information on this process can be found in the documentation for the search plugins.
There's also a bundle of minor additions and improvements across the themes; to find out more, check out the theme pages to see what else is new.
Improvements
There's always room for improvement, so as you can expect, version 0.40 includes a host of changes to make using Publii a smoother, more user-friendly app. In this release, you'll find the following:
A note regarding the cookie banner changes has been added to the app.
A note regarding the recommended server settings has also been added.
Improved handling of responsiveness in embedded content.
UI translations are no longer considered an experimental feature.
Improved the sync process.
Added notification regarding lack of support for features such as search/comments where needed.
Reduced the number of file read operations required during the rendering process.
Optimized calculation of file control sums for binary files (some files may need to be resynced after this update).
Added detection for missing destination directory when using the manual deployment method.
Added note regarding third-party service usage when using Gravatar.
Electron updated to version 18.
Removed glob-move file from manual deployment.
Bugfixes
The neverending battle against bugs continues, with these fixes added in the latest release:
Fixed issue with Netlify upload when the uploaded site contains empty files.
Fixed issue with text-stats not updating when initially opening and beginning a new post.
Fixed issue with saving WYSIWYG field values for plugins.
Fixed issue where app closed even when the user chose to not close it when shown the close app confirmation.
Fixed translation issues.
Fixed issue with empty dropdown lists for posts in the menu item editor.
Fixed HTML syntax errors when captioning images.
Fixed visual error in the block editor when removing an image.
Solved crashing issue occurring when there was an upload error during SFTP deployment.
Hotfixes
Publii hotfix 0.40.1
Fixed issue with subfolders in media/files directory (ref: https://forum.getpublii.com/topic/javascript-error-2/)
Publii hotfix 0.40.2
Fixed bug with incorrect display of messages about the lack of support for the author's pages (ref: https://forum.getpublii.com/topic/technews-theme-authors-error/)
Changed editor behavior with sidebars enabled; now, the sidebars don't cover the editor body.
Publii hotfix 0.40.3
Fixed problem with syncing to GitLab pages (ref: https://github.com/GetPublii/Publii/issues/692
Fixed issue with importing the WordPress site by skipping posts with a null value in the title (ref: https://forum.getpublii.com/topic/import-from-wordpress-now-posts-list-not-displaying-in-cms/ )
Improved FTPS configuration
Minor app UI improvements.
And that's all for now. As always, we'd like to thank our community for the support, suggestions and bug reports that they so generously provide; without their incredible efforts, Publii wouldn't be close to the quality that it currently is. If you run into any issues with this update, or have other questions or suggestions, please do drop in to our Free Support Forum and let us know. Thank you once again for your support, and we look forward to bringing you more updates and plugins in the future!